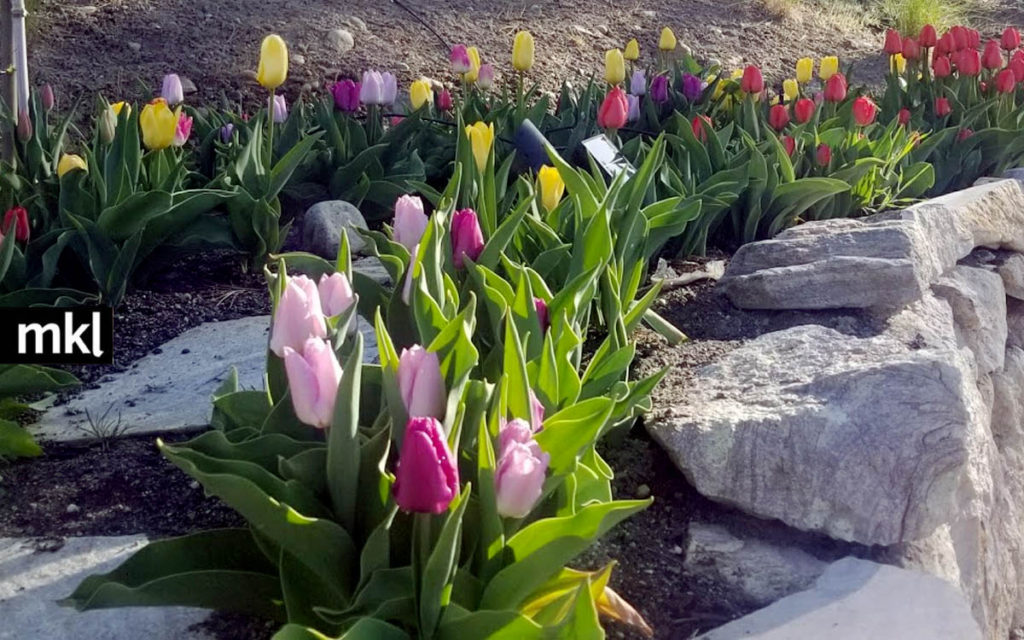 Spring has officially sprung! And, so have many of our spring flowers. This year, we've noticed that our tulips have been doing particularly well. Over the last few weeks, nearly all of our tulips have popped up to say hello! In celebration of these lovely flowers, we decided to make this month's article a feature about tulips. Below we will be going over some interesting facts and uses for these common spring flowers.
Continue reading along to learn more!
All About the Tulips on our Okanagan Lavender Farm

The name "tulip" is originally derived from the Persian word "delband", which means turban. One of the stories of the origin of this name says that the word comes from the shape of the flower which is somewhat similar to the shape of a turban. Unlike many assume, tulips did not originate from the Netherlands. In reality, tulips are a wildflower that is native to central Asia. Specifically, in the Tien Shan Mountian near the Russian-Chinese border. 
Where were they made famous?
Although tulips are originally from central Asia, they were made popular in the Netherlands. Sometime in the 16th century, tulips were imported from the Ottoman Empire. Following this event, a botanist at the University of Leiden in the Netherlands, Carolus Clusius, was given some of the bulbs. Clusius grew the bulbs in private and refused to share or sell them. This resulted in a number of raids to steal the bulbs. Eventually, tulips became more valuable than gold and were sold for 10 times more than what the average person made in a year.  
Did you know that each tulip has its own meaning based on its colour? We're not kidding! Check out what each tulip colour represents in the table below.
| | |
| --- | --- |
| Tulip Colour | Meaning |
| Red | Passion, love and lust |
| Orange | Understanding and appreciation |
| Yellow | Happiness, cheerfulness and hope |
| Purple/Black | Royalty, power, strength and elegance  |
| White | Apologetic, purity, honour, holiness, new beginning |
| Blue | Individuality and uniqueness |
| Pink | Congratulations |
There are roughly 3,000 different kinds of tulips that are known to people. These types are further classified bu their flower type, size and blooming period. The most common types of tulips include:
Double 

Fringed

Fosteriana

Greigii

Parrot

Species

Triumph

Rembrandt
More Tulip Facts for Your Brain!
Tulips are an incredibly popular flower that is known for their spring bloom. However, those who want to enjoy the sight of these perky flowers must act fast. On average, a tulip's bloom only lasts 7-10 days. So, if you are planning on visiting a tulip festival be sure to get out as soon as possible! You should also keep this in mind if you want to cut fresh tulips for a vase indoors. 
Another interesting fact about tulips is that they produce one of the only "black" flowers. Although there are no truly black flowers that occur in nature, there are many flower hybrids that come close. One of which, happens to be the 'Queen of Night' tulip.
Like lavender, tulips are actually edible! Funnily enough, tulips are part of the same family as onions, garlic, and asparagus. In the olden days, tulips were used as a substitute for onions, as well as, to make wine. Who knew this descendent of the Lily family was so versatile? 

**Attention Cat Owners: Since tulips are part of the lily family, they are highly toxic to cats. If your cat ingests any part of a tulip (especially the bulb), please call your veterinarian immediately!**
Tulips do best when planted in the fall
Similar to other bulbs, tulips do the best when they are planted during fall before the ground freezes. You'll want to choose a location that has full sun or at least partial sun with neutral pH soil. Be sure that the area you plant your tulips has good drainage, as bulbs will rot in soil that is too wet. Plant your bulbs 6 to 8 inches into the ground and 4 to 5 inches apart. 
Contact us About our Okanagan Lavender Farm!
Our Okanagan Lavender farm has lots in the works for this spring 😉 Be sure to stay tuned to our social media, website, and blog until the opening date of Lavender Jack's! As always, if you have any questions about purchasing lavender from our Okanagan lavender farm, feel free to contact us. Or, if you have any inquiries about Lavender Jack's, don't hesitate to reach out. We look forward to welcoming you soon at our new location!