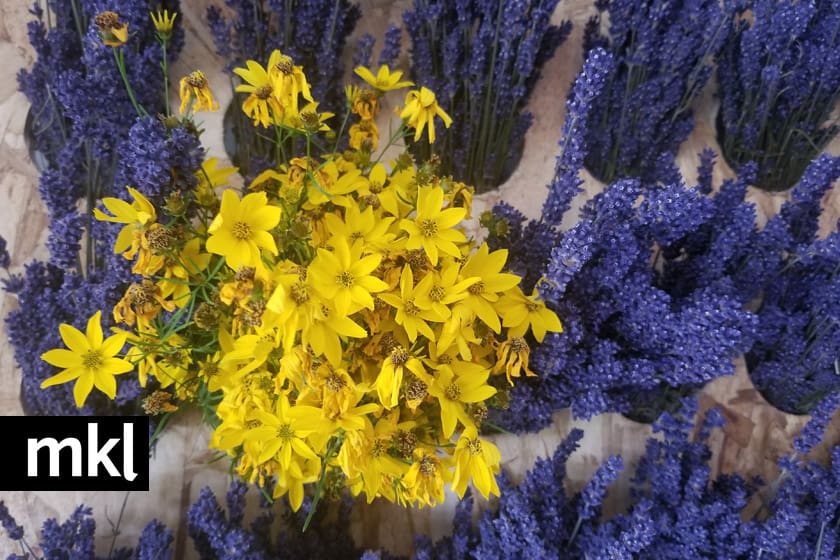 Lavender Bundles For Sale Again in the Shop Soon!
It's almost a wrap on lavender season for 2020 here at McKinley Lavender Farm.  We are totally sold out of all our lavender bundles!  Thank you to everyone who ordered bundles, boxes and buds from us this season. Did you miss out on our first harvest? Not to worry, we'll have a limited quantity of lavender bundles back in stock soon. These bundles from our second harvest will make great gifts for the upcoming holiday season. Dried bundles are also fantastic for your Thanksgiving tablescapes and crafts. So stay tuned and snap them up quickly if you've been on the fence!  This winter you can also order our handmade lavender sleep masks and lavender buds.  We are also hoping to offer some oils and floral water as well. Check back to the shop often!
The 2020 season was a weird one. As always, we receive hundreds of calls a day from people wanting to come and visit the gardens. Unfortunately, with Covid and our struggle with zoning and the City of Kelowna, we don't know when we will be able to accommodate these requests. We are looking into some options for a select few but we can't share any of those details yet.
Planning for spring 2021 is underway and we are so excited to continue adding to our farm and gardens. We will be undertaking a huge new garden installation this spring which is so exciting.  The new garden will see the addition of almost 10,000 new lavender plants. This will be the biggest plant addition to our lavender farm to date and will allow us to keep up with the demand for sales! Since next year will be a development year we will use the rest of this fall to finish off some of the other farm and garden projects we have in progress.
These are the projects that never seem to end but mostly include pathway work and landscaping.  We will also use this fall to plant more bulbs for when spring arrives. A variety of Narcissus and Tulips will be going in the ground soon. At the same time we'll be digging out all the Dahlia tubers and other bulbs that need to be overwintered.  It's a lot of work for the farm to be so blooming pretty all the time. Thankfully we love every minute of the mess it takes to maintain it.
Hopefully one day we can welcome you for a visit – until then we hope you can enjoy some of our Okanagan grown lavender in your home when you order from us online!