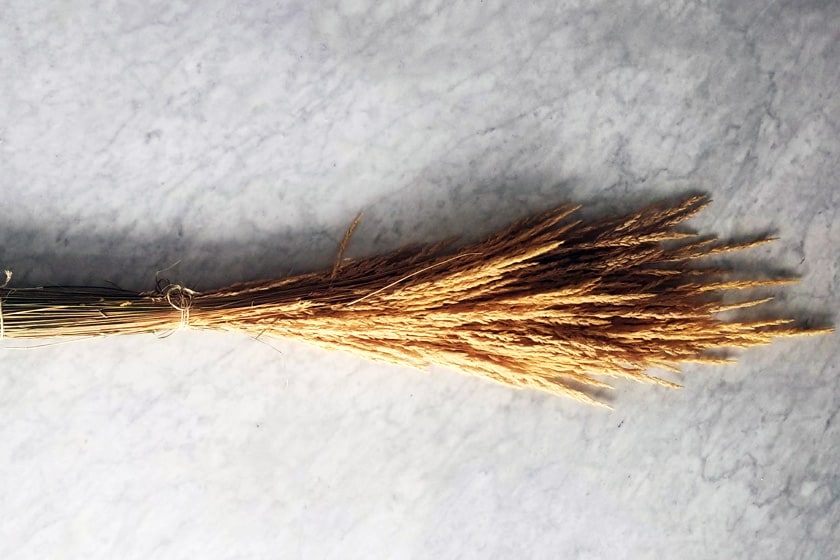 Dried grasses create an impact for weddings and they're ultra affordable!
Take a quick spin through Instagram or any other social channel and you'll find that dried grasses are having their moment. Especially when it comes to choosing wedding & event blooms. Who can disagree? Dried grass makes a lasting impact and is a stunning feature bloom when you consider the height, volume, cost and longevity of a bundle.  We are so excited to offer these beautiful bundles for sale direct from our farm!
Dried grasses are extremely flexible. They can be used singularly on their own as a focal piece or in a combination with other dried, or fresh flowers. They are a focal piece in any season and create an ambience all their own.  The options are endless from natural looking tablescapes to dramatic arches and aisles. Let's take a dive into Karl Foerster Feather Reed grass and all the amazing uses for this dramatic grass.
An MKL Perennial staple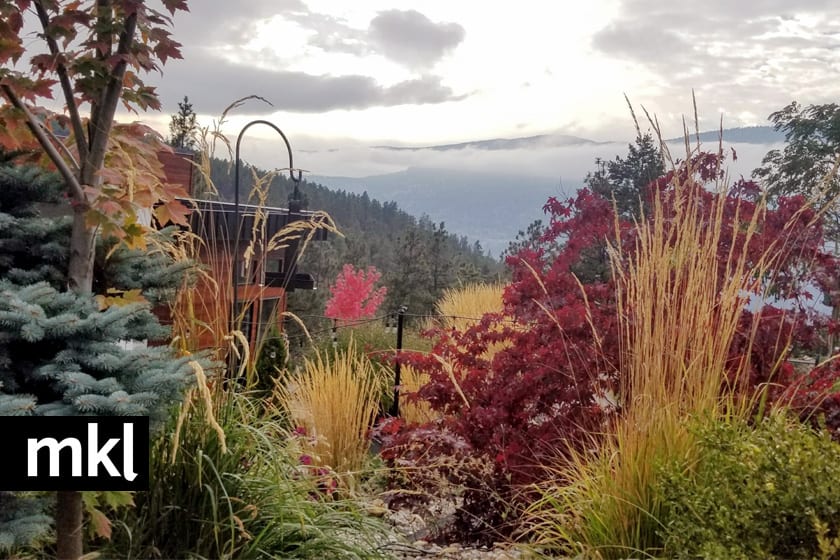 We have always been a fan of Karl around here. In fact Karl's were among the very first plants that went in the ground at our farm. Of course at that time 7 years ago, when the first 1 gallon feather reed grass went into the ground, we had no idea we would very soon become obsessive gardeners. We also hadn't a clue we would soon plant hundreds upon hundreds more. We first met Mr. Karl Foerster at the Costco garden centre.  We had a new home and a huge barren lot of dirt that lacked any sense of welcome.
This combination landed us at Costco where we happened upon a curious elderly gentleman. The man looked dapper as if he had stepped out of a Sherlock Holmes novel. Rather than a pipe, as would have suited him, he clutched a spindly looking tall feather reed grass in each hand. I watched as he loaded them into his cart two by two until he had at least 2 dozen grasses spilling out from every side of his buggy. He professed loudly that at $9.99 for a 1 Gallon size of the "Karls" it was basically a steal. Especially for the once Perennial of the Year specimen grass. I had heard enough. This man seemed to have it on good authority that these grasses were a damn near necessity for any garden. So much so that he would load up his cart with as many as it would hold. I proceeded to follow his lead and we purchased our first 12 Karl's. Grasses which are still thriving to this day along the pathway in our front garden.
What's not to love about Karl Foerster?
Once we realized that they were sturdy, non invasive, pest and deer tolerant, drought tolerant, fast growing both in width and height and beautiful – well, we sort of went crazy with them. In fact we've lost count as to how many we have on this property. It's in the hundreds for sure and maybe one day we'll be inclined to inventory them, but for now we focus on what little maintenance they do require – pruning!  When the grasses were smaller, we would prune them and use the clippings to insulate beds for the winter, for compost and sometimes I would sneak some in for vases around the house. They are such a beautiful golden yellow that stands out in any setting.
If you've ever been on the fence about growing these in your own garden I would highly recommend you add one or two to try them out. They don't spread or die off like a Bunny grass or Mondo grass will. They're almost an evergreen species. They are also extremely hardy in the Okanagan climate. We can split them at any time of year and transplant them virtually anywhere and by the following season they are thriving.  I can't think of any grasses that have died on us.  Coupled with the lavender plants they are the second biggest staple planting in our gardens.
Dried grasses for weddings that bring tablescapes to life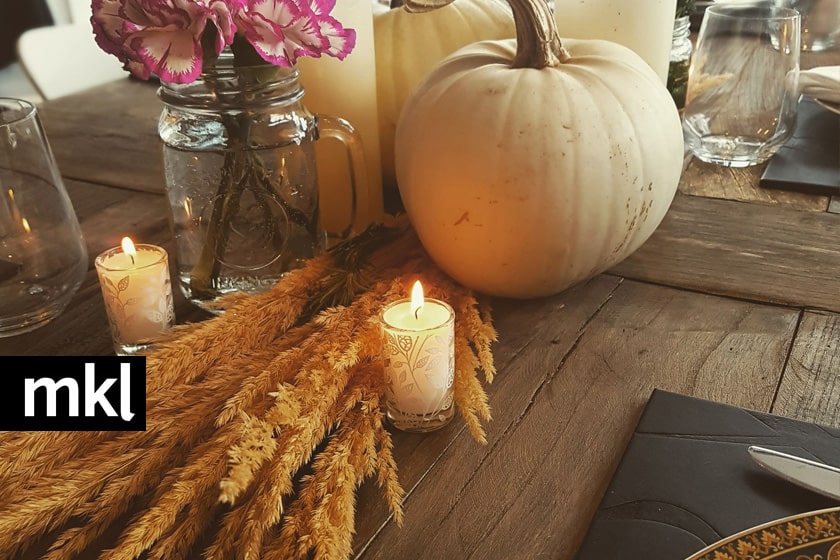 Since the dried grass is bundled in a 5ft length you have so much flexibility when working with your design. Grasses can be trimmed to any length and used in a range of applications. For an understated, casual approach you might elect to lay your grasses length wise along your dinner table. For round tables, a cross hatch, wreath pattern creates a nest for candelabras, or additional floral elements.
If you're using dried grasses in a large space then consider using a tall vessel to display singular bundles. Keep them larger than life at 5ft tall or trim them back so that only their feathery golden plumes are visible. Either way dried Karl Foerster grasses are sure to make a statement on any table.
Dried grasses as a focal piece in your home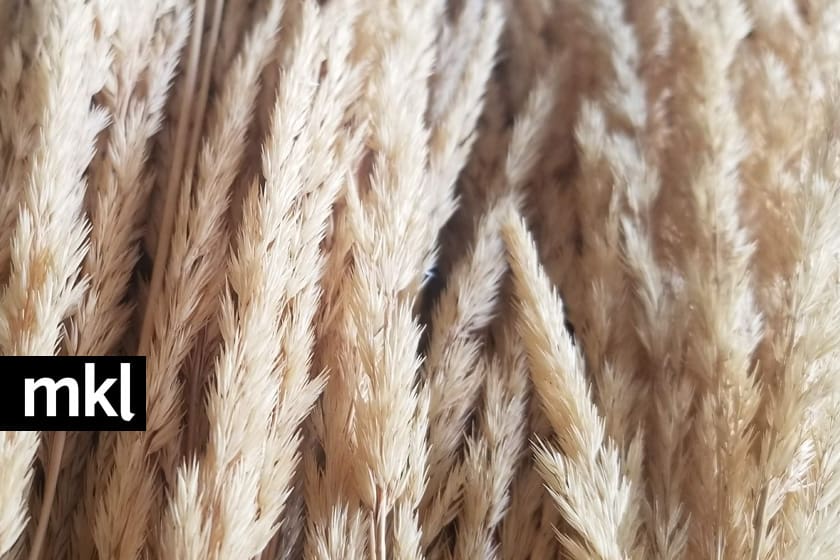 Tall ceilings are a staple in many modern homes today. Sometimes tall ceilings can leave a home feeling cavernous and devoid of life. Of course a few house plants can help to warm up your space, but what do you fill in the gaps with? Enter dried bundles of grass for floor vases as a whimsical way to warm up your space. Dried grasses also add a dimension of height and depth that can help to create a cozy experience.
Dried grasses for wedding arches, arbors & Moongate installations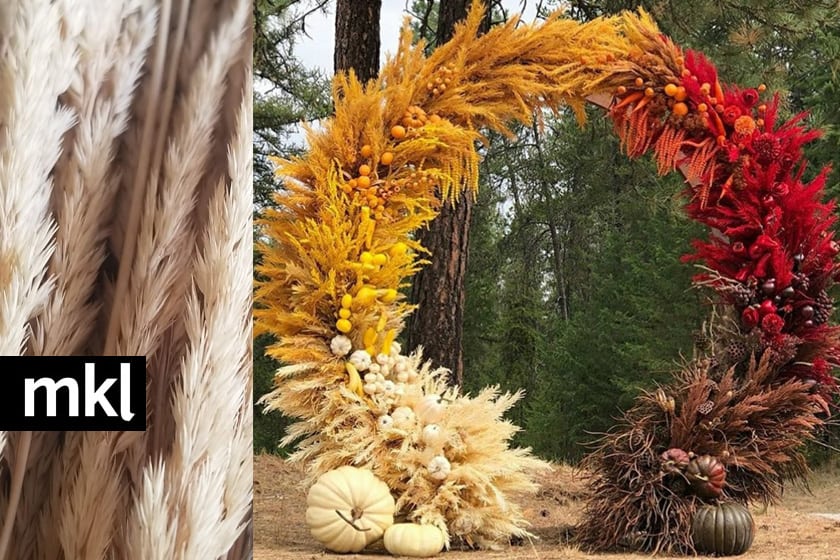 Nothing says Wow! more than the wedding arch in the picture above. This is not our photo (right). It was found on Instagram (tagged Pampas People in our stories) but it certainly stopped the scroll for a screencap as soon as we saw it!  We do have a custom made Moongate on our farm.  It finally went to it's forever spot overlooking the main lavender field when we added the new garden this past summer. It's been planted with climbing roses from David Austin for now. In a couple of years time it should be a stunning canopy of red and pink roses, surrounded by tall, green sky pencils and white lavender. However, in the future I can also see myself doing this for an autumn or winter installation. If you're looking for dried grass bundles for your wedding I wouldn't hesitate on ordering some here right now. Then I would be on the phone to find a designer to pull off the above look because it is stunning!